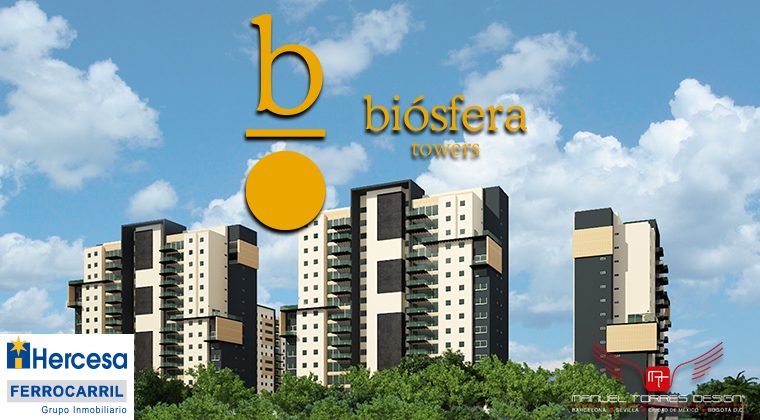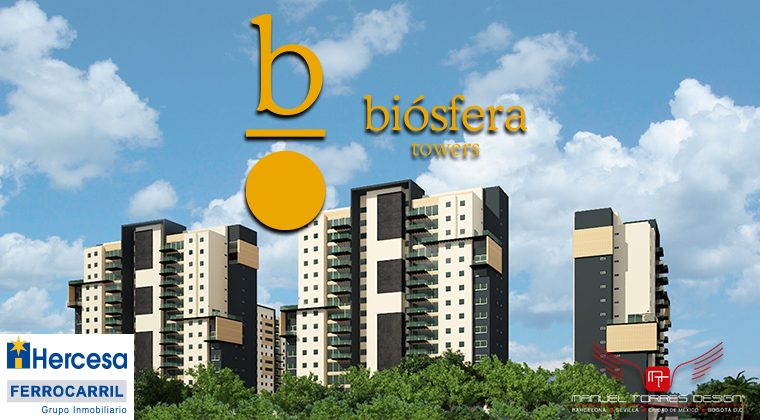 Sales Success in BIOSFERA TOWERS, designed by MANUEL TORRES DESIGN
On Thursday, September 8, the launch of the high-end residential complex BIOSFERA TOWERS was held, the new residential development of Hercesa and Ferrocarril Grupo Inmobiliario in the city of Querétaro, designed by the International Design Studio MANUEL TORRES DESIGN. Since then, in just two months he has exceeded the sale of more than half of his apartments; In fact, around 60% of the total has been sold these days.
The study of MANUEL TORRES DESIGN is in charge of the integral realization of the interior design and architectural redistribution project corresponding to the new residential complex of high standing BIOSFERA TOWERS, located in the city of Querétaro, specifically in the luxurious municipality of Jurica (Mexico).
The complex extends over a total area of ​​20,500.00 m2, within which 4 towers of up to 17 levels will be projected that will contain a total of 266 apartments, of different typologies from 91 m2 to 186 m2 with terraces from 8 m2 to 70 m2; and 16 areas of amenities of 9,000.00 m2, among which stand out: 2 paddle tennis courts, covered semi-Olympic pool, children's pool, gym and activity room, paddle tennis courts, tennis court, jogging, area spa, 8 hydrothermal hot tubs, steam baths, saunas, massage and relaxation rooms, kids club, outdoor children's area, outdoor and indoor green areas, multipurpose room and lounge bar with outside terrace; thinking and covering to the smallest detail all the requirements of a Luxury Residential Complex.
The creative solutions provided follow the same values ​​under which BIOSFERA TOWERS is built, these being innovation, avant-garde, exclusivity, quality and comfort of the spaces. It is the perfect combination between elegance and ideal location which makes this place an example of lifestyle.
The design concept of MANUEL TORRES DESIGN for BIOSFERA TOWERS is the result of the latest trends in green design and sustainability, making use of materials committed to the environment and innovation. Throughout the complex, the concern for design for all its users is evident and the elimination of architectural, mobility and social barriers has been taken into account, facilitating accessibility and freedom of movement.
About Hercesa y Ferrocarril Grupo Inmobiliario
Positioned as among the largest developers in Spain, with more than 40 years of experience in the real estate sector, Hercesa and Ferrocarril Grupo Inmobiliario have combined their experience, management skills and financial solvency to undertake large projects in Spain and since 2004 in the International panorama. It currently has a portfolio of about 30,000 homes under development in Spain, Portugal, Romania, Bulgaria, the Czech Republic, Poland, Morocco, Ecuador, Panama and Mexico. Today Hercesa y Ferrocarril Grupo Inmobiliario is committed to the Mexican real estate market with the aim of creating quality homes and SENSE SPACES.
Contact Hercesa y Ferrocarril Grupo Inmobiliario: www.hyf.mx
To visualize the complete project click here
To download the Commercial Biosphere Brochure Towers click here