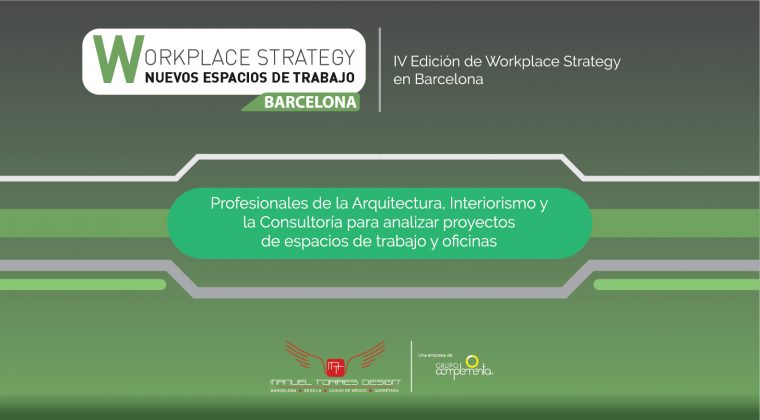 MANUEL TORRES ACEMEL AT THE 4th EDITION OF WORKPLACE STRATEGY IN BARCELONA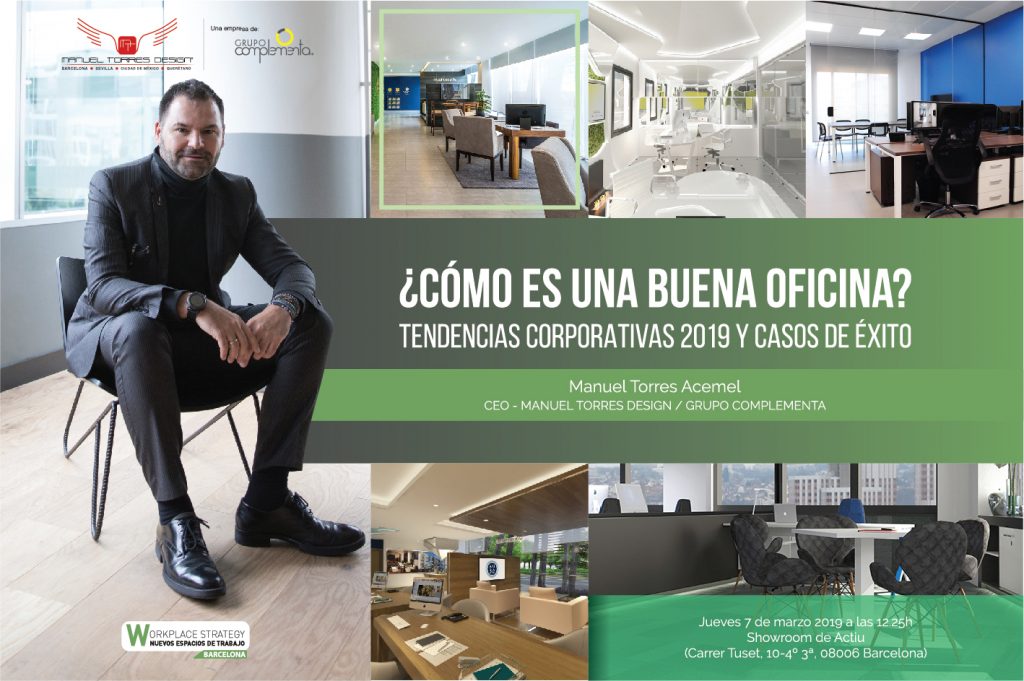 Manuel Torres Acemel, CEO of the International Study MANUEL TORRES DESIGN, a company GRUPO COMPLEMENTA, waiting for you next Thursday March 7 at 12: 25 hrs in the framework of the IV edition of the event of Workplace Strategy in Barcelona, ​​which will take place at the Actiu Barcelona Showroom on Calle Tuset 10, where it will showcase the latest trends in the corporate sector and some of its latest projects in the sector with its conference "How is a good office? 2019 Corporate Trends and Success Stories".
The fourth edition of this event in Barcelona will bring together different professionals in architecture, interior design and consulting to analyze their latest projects and work in progress in the field of work spaces and offices and together to explore the changes that are taking place in the way companies work and how they affect the design of projects and workplace spaces.
---
WE ARE WAITING FOR NEXT MARCH 07 AT 12: 25 HRS .:
08006 BARCELONA
---
COMPLEMENTA GROUPis a group of companies with presence in Spain (Barcelona and Seville) and Mexico (Mexico City and Santiago de Querétaro) that is created to meet the need to be able to COMPLEMENT the projects of our clients to 360 °. At present, the group includes three companies focused mainly on the design and construction sector.
In 2004, it began with MANUEL TORRES DESIGN, International Study of Specialized Design in Architecture, Interior Design and Products.
In 2010, EJECUTARE, Leaders in Works, Products and Equipment, was born to carry out the construction, engineering, study and administrative tasks that require their orders.
In 2013, SINGULAR, Communication and Design Agency, specialized in managing the visual communication and design part, was created.
The values ​​shared by the companies that make up COMPLEMENTA GROUPthey are his passion, perseverance, dedication and dedication, invariably under a common criterion of rigor, seriousness, professionalism and an excellent management of cost and time.