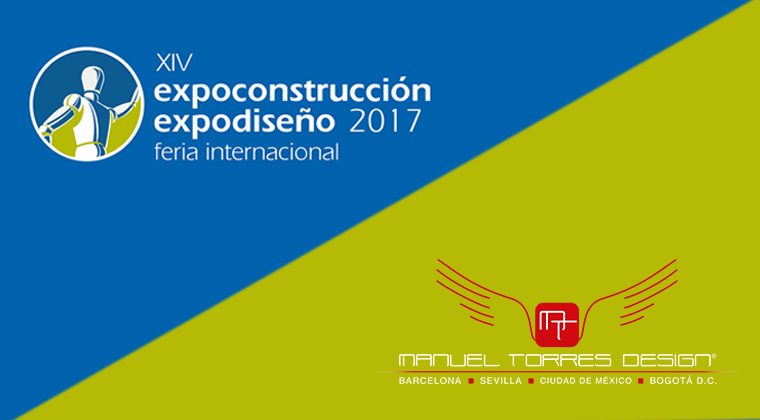 MTD Exhibition Stand at the International Exhibition of EXPOCONSTRUCTION and EXPO DESIGN
MANUEL TORRES DESIGN–International Study of Architecture, Interior Design and Product Industrial Design – has the pleasure of inviting you to visit our Stand, located in the Pabellón 4 – Stand 611A, of XIV Feria Internacional de EXPOCONSTRUCTION y EXPO DESIGN 2017, en Corferias – Bogotá D.C., which will take place from May 16 to 21 of this year.
The International Fair of EXPOCONSTRUCTION and EXPO DESIGN, of biennial periodicity, constitutes one of the most important scenarios for the projection and growth of the sectors of construction, architecture, design and infrastructures, with respect to the Latin American Pacific Arc Region, Central America and the Caribbean, being a platform for the promotion of business and qualified contacts between exhibitors, buyers and visitors.
The graphic communication of the Stand is sponsored by Barrisol, world leader in Tense Textile Architecture, where through the variety of solutions, products, textures and finishes offered by the brand, has allowed the International Studio MANUEL TORRES DESIGN to project a personalized and innovative graphic creating a visual impact and an effect Wow! for the EXPOCONSTRUCTION and EXPO DESIGN fair.
The MANUEL TORRES DESIGN study It was founded by its CEO Manuel Torres Acemel in 2004 in Barcelona, ​​later opening offices in Seville in 2010, in Mexico City in 2011 and Bogotá D.C. in 2015, becoming an international firm that has a team of about 40 creative specialists in architecture, interior design and industrial design for the private, commercial and business, supported by more than 300 PROJECTS carried out nationally and internationally.
The professional career of Manuel Torres Acemel, as well as that of the studio, has been recognized with several awards, such as the prestigious "Global Quality Gold" International Award in 2013 in the ELITE category thanks to his excellent professional career, transcendence, influence and projection. The Gold Medal 2011 of the Europa 2001 Forum in recognition of his professional career, prestige and contribution to the business fabric and civil society. The Quatrium Award for Best Interior Designer of the Year 2009, and the 2009 Iplus Award for Best Commercial Interior Designer.
For this reason, we are pleased to make you participants in this great event .. Which will be broadcast live and interactively on all our social networks.
If you want to visualize the project click here
We are waiting for you from the 16th to the 21st of May at the XIV International Fair of EXPOCONSTRUCTION y EXPO DESIGN 2017.
---
Fairs and Exhibitions Corporation – CORFERIAS
Pabellón 4 – Stand 611A
Cra. 37 #24-67, Bogotá, Colombia
Horarios:
First day of the fair: 12:00 a.m. – 7:00 p.m.
Regular visit schedule: 10:00 a.m. – 7:00 p.m.
---
Concerted visits:
If you want to visit us and schedule an appointment with us at the fair, call us at Tel: +57 (1) 322-6014 from our office in Bogotá D.C. or write to info@manueltorresdesign.com indicating in the subject of the e-mail "EXPOCONSTRUCTION y EXPO DESIGN" proposing a day and time to coordinate together.
---