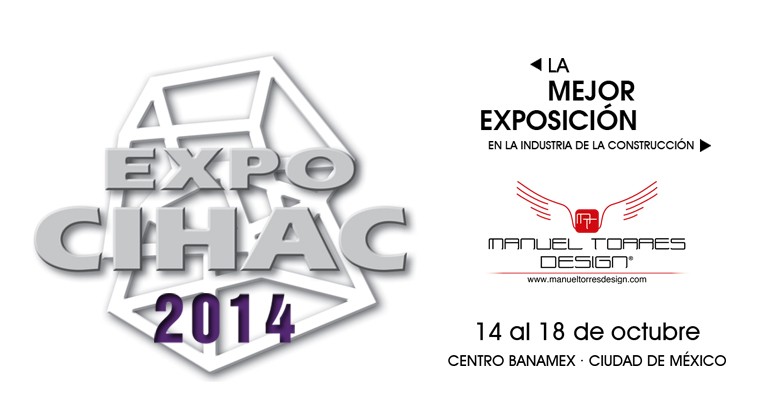 MANUEL TORRES DESIGN and HELVEX by Designers at Expo CIHAC 2014
Expo CIHAC 2014 will bring together all branches of the construction industry, being an event in which professionals will be able to know all the new developments in the construction sector, since in this fair the best professionals from the same will meet. .
This edition, which will take place from October 14 to 18 at the Banamex Center in Mexico City, will include the participation of the international design studio MANUEL TORRES DESIGN that will present its latest collaboration, this time with the Mexican firm HELVEX by Designers in the Stand C241 of Expo CIHAC 2014, where we will see the birth of PIURA by MANUEL TORRES DESIGN, a collection of taps inspired by the biomímesis that will set a new precedent in terms of bathroom accessories.
To this end, a complete collection of bathroom fixtures and accessories has been created, based on a system created by the studio, the SIDIB Method – Integral Design System Inspired by Biomimicry -, a system that is the origin of a thorough analysis and research of trends that offers projects with real, personal solutions; but above all capable of providing value to its customers and anticipating the competition, enjoying the benefits of excellence and exclusivity of becoming trendsetters companies thanks to the final result in the design of their products.
It is a clean, pure, natural and organic collection that moves away from conventionalism to approach a sculptural work at the service of hygiene, which brings an intense aesthetic torrent to the simplest of toilets giving sensory pleasure and ecological values.
A line where diversity, fragility and the subtle relationship between form and efficiency result in a functional, efficient, profitable and sustainable design with a high aesthetic appeal. An avant-garde design that remains unchanged over time.
HELVEX is a Mexican company with international presence that presents integral solutions for bathroom and kitchen, of the highest quality. HELVEX is a leader in the innovation of products whose functionality, aesthetics, durability, integral support and high quality, are recognized and give full satisfaction to its customers and users, guaranteeing the sustainability of the company.
HELVEX by Designers is an exclusive line created by renowned internationally recognized designers, these new lines will be an offer fruit of the current trends, with a unique design, produced by the renowned factory of HELVEX, with the purpose of approaching an audience that appreciates an exclusive product of unparalleled quality and design. Its sale will be through the points of sale where HELVEX by Designers is exhibited, which are part of the network of HELVEX distributors.
We are waiting for you at Stand C241 of Expo CIHAC 2014.
Banamex Center
Conscripto 311. Colonia Lomas de Sotelo.
Delegación Miguel Hidalgo.
CP 11200. México D.F.
Schedule:
October 14 to 17 from 1:00 p.m. to 8:00 p.m.
Saturday October 18 11:00 a.m. to 8:00 p.m.
To see more: Expo Cihac 2014
To visualize the content project Click here