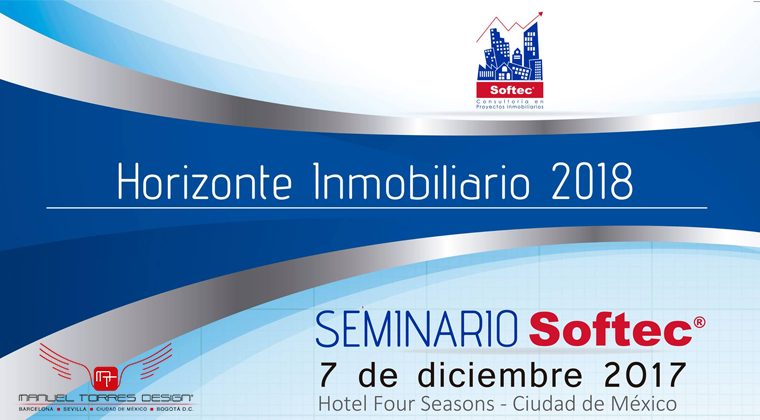 Manuel Torres Acemel awaits you at SOFTEC
Manuel Torres Acemel, CEO of the International Studio MANUEL TORRES DESIGN, is waiting for you next December 7 10:50 to 11:35 hrs in the framework of the seminar SOFTEC that will take place in the Hotel Four Seasons Reforma de CDMX, where you will get tips and keys to be successful in the field of Real Estate with your conference "Marketing and Real Estate Design".
For 27 years, SOFTEC It carries out a Seminar with the objective of informing on the current conditions of the real estate industry, the projections of financing, economic environment, state regulations and expected market dynamics. Derived from this, alternatives within this important forum are proposed. allow all industry players to face the challenges and opportunities that will arise during the year.
---
We are waiting for you next December 7th from 08:30 to 15:00 hrs .:
Seminar SOFTEC
Hotel Four Seasons – Gran Salón A
Reforma 500, Col. Juárez, 06600 Ciudad de México
---
COMPLEMENTA GROUP is a group of companies with a presence in Mexico and Spain that is created to meet the need to COMPLEMENT the projects of our clients to 360 °. At present, the group includes three companies focused mainly on the design and construction sector.
In 2004, it began with MANUEL TORRES DESIGN, International Study of Specialized Design in Architecture, Interior Design and Products.
In 2010, EJECUTARE, Leaders in Works, Products and Equipment, was born to carry out the construction, engineering, study and administrative tasks that require their orders.
In 2013, SINGULAR, Communication and Design Agency, specialized in managing the visual communication and design part, was created.
The values ​​shared by the companies that make up COMPLEMENTA GROUP are their passion, perseverance, dedication and dedication, invariably under a common criterion of rigor, seriousness, professionalism and an excellent management of cost and time.