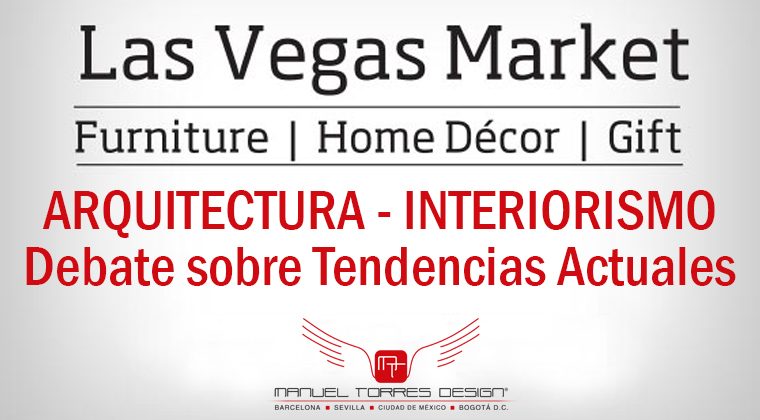 Debate at LAS VEGAS MARKET CENTER with Manuel Torres Acemel
Manuel Torres Acemel, CEO of the international design studio MANUEL TORRES DESIGN, participates again in the most important furniture and design equipment fair in the United States, LAS VEGAS MARKET. The designer will be part of a debate oriented to the current trends in architecture and interior design. The intervention will take place on January 24 at 1:00 p.m.
The debate will also have the presence of Arq. Julio César Chávez (National President of the SMI, Director of Grupo Alarife Arquitectos, as well as Director and host of the TV program Interiorismo & Tendencias and Professor for 33 years), Verónica Chapa (Interior Designer and collaborator of the radio program "El Pleasure of Being a Woman "at 11470 am, VP Chapter CDMX / SMI), and DG Rosemary Martínez (Designer, writer and teacher with more than 30 years of professional experience, has developed more than 30 restaurants and subdivisions, Honorary Professional Member of SMI).
LAS VEGAS MARKET is the most complete furniture, decoration accessories and gift items trade show in the United States, attended by visitors from more than 100 countries and offering an unparalleled selection of items of various categories in theaters. permanent exhibition and temporary exhibitions. LAS VEGAS MARKET offers endless shopping opportunities throughout three buildings and over 370,000 m2.
The LAS VEGAS MARKET international fair is a totally free event and will take place from January 22 to 26 of this year; register now to attend the debate "ARCHITECTURE – INTERIOR DESIGN – Current Trends"
---
TO ASSIST THE CONFERENCE:
Att. Carolina Flores / Yolanda Obando
E-mail: international@lasvegasmarket.com / CFlores@imcenters.com
---
We wait for you on January 24 at 1:00 PM at:
WORLD MARKET CENTER LAS VEGAS
Edificio C, Primer Piso Suite C-174
475 S Grand Central Parkway
Suite 1615
Las Vegas, NV 89106