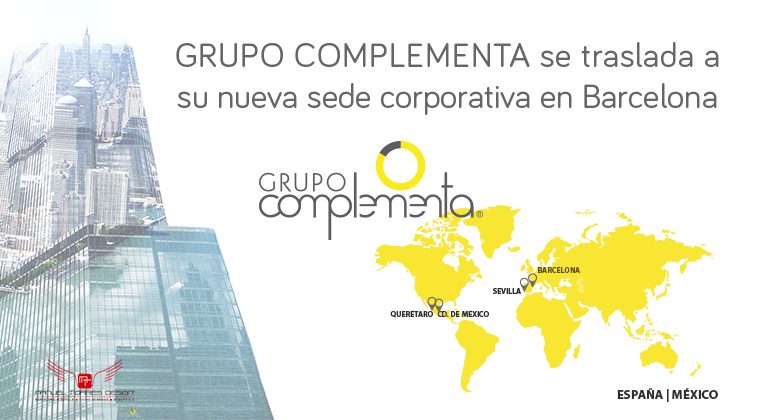 COMPLEMENTA GROUP moves to its new corporate headquarters in the DIAGONAL AVENUE of BARCELONA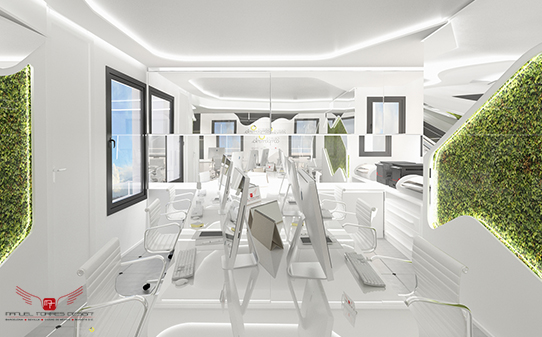 COMPLEMENTA GROUP, a group of three companies focused on the design and construction sector formed by MANUEL TORRES DESIGN, International Study of Design Specialized in Architecture, Interior Design and Products, EJECUTARE, Leaders in Works, Products and Equipment, and SINGULAR, Communication and Design Agency, announces the transfer in September 2018, to its new offices in Barcelona, ​​motivated by the growth of its team and the increase in the volume of projects and works. The new corporate headquarters will be located in an attic on the famous Avenida Diagonal nº441 in the Eixample Esquerra neighborhood, one of the most emblematic areas of Barcelona that stands out for its historical elegance and the presence of the economic and commercial axis of the city.
The project concept of the new offices seeks to generate a unique, iconic and avant-garde design with a futuristic atmosphere in white, finished in steel and mirror surfaces that reflect the interior and enhance the existing natural light, in addition to generating a visual sensation of spaciousness. It has been given meaning by equipping it completely based on the functional program, the needs of the collaborators and according to the latest trends and innovations of the home automation and audiovisual systems sector. In order to achieve the concept of open spaces, the separations are made in a subtle way through glass screens from floor to ceiling that allow a general overview of the whole and that improve the sense of spaciousness that was sought from the beginning, without lose acoustic privacy to develop activities such as meetings with suppliers and customers.
If you want to visualize the project Click here